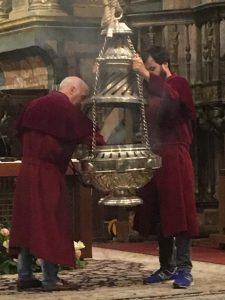 Buen Camino Peregrinos y Peregrinas,
We want to provide a few simple updates regarding the Warriors on the Way pilgrimage.

The first is that, as could be expected, the 2020 pilgrimage has been postponed until 2021.  The postponement is disappointing but is the reality of a world reacting to Covid.  We will not place the health of our pilgrims at risk.  And, even if we were ready to accept the possible risk, the EU is not allowing travelers from the US for the foreseeable future.
What does this mean for our 2020 pilgrims?  The first thing is to notice we are postponing – not cancelling.  The 2020 approved pilgrims are being shifted to 2021 as they are able.  It is not a perfect solution, but it is the best course of action we can follow.  The next, "silver lining" is that the famous giant incense burner – the Botafumeiro – has not been swinging due to renovations in the cathedral.  Whether out 2020 pilgrims would have seen this amazing sight was rather uncertain.  Now with a 2021 date, we can be relatively certain this "you cannot miss" element of the Camino de Santiago experience will not be missed.
The next piece of information for our pilgrims and supporters is some sad news.  Long-time supporter of the Warriors on the Way pilgrimage Major (retired) Tom Spencer recently departed this life.  Tom rose through the enlisted ranks, went through Officer Candidate School, was commissioned an Infantry Officer, served the remainder of his career, and then retired.
Tom served multiple tours in Vietnam and through his own combat experience, became quite aware of and sensitive to the realities of PTSD and Moral Injury.  Always wanting to assist the next guy, Tom has personally fully sponsored multiple Warriors on the Way pilgrims – one Soldier helping the next Soldier find peace after years of war.
In honor of Tom's service and legacy of amazing generosity, the Warriors on the Way 2021 pilgrimage will be designated the Major Thomas A Spencer Memorial Pilgrimage.
Major Thomas A. Spencer, Infantry (Retired)
Multiple Tours in Vietnam
Combat Infantryman's Badge
Expert Infantryman's Badge (Earned while still an Enlisted-man and a Private)
Silver Star
2 Bronze Stars (Valor)
1 Bronze Star (Service)
2 Air Medals (Valor)
9 Air Medals (Service)
and then many rows of lesser awards
Requiescat in Pace – Rest in Peace